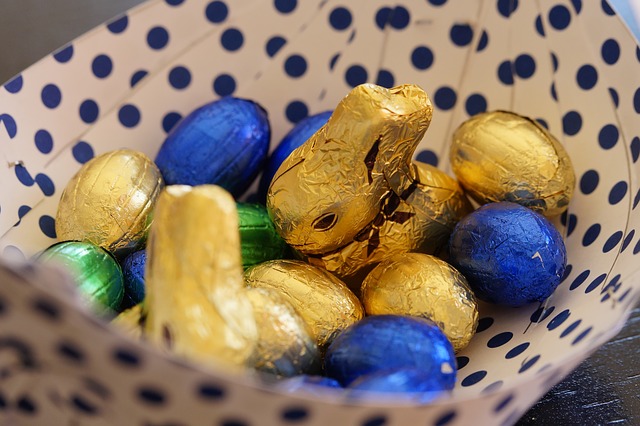 After a long, long winter, Spring is finally here. Green leaves, warm afternoons, seasonal allergies — Spring has it all. And with the season comes Easter, the Easter Bunny, and Easter baskets. Seniors and children love Easter; it can be a joyous time to spend with family, and every candy is shaped like a rabbit or an egg. While Easter baskets might be primarily for children, there's absolutely no reason adults and seniors can't participate in the fun! For this installment of our Sweet Choice series, let's look at Easter baskets and how to make them fun, and healthy for a celebrating senior.
Origins of the Easter Basket
No holiday is complete without its mascot, and Easter is no different. While Easter has its religious significance for many, the Easter Bunny represents the other aspects of the celebration. No one can quite pinpoint his origin, but historians somewhat agree that the Easter Bunny comes from ancient Germanic cultures from the 13th century. The big bunny, the eggs, and the basket are all symbolic of springtime, fertility, and new life.
Chocolate Easter Bunnies have their own unique history as well. Chocolate for centuries has been the Number One treat, and as a result, it's also the Number One thing given up for Lent. European chocolatiers, centuries ago, had the brilliant idea to creature chocolate bunnies to represent the holiday and give us a treat as a reward for the end of Lent. Today, about 90 million chocolate bunnies sell every year.
The Sweet Choice
Like we said, adults can have just as much fun on Easter. Easter baskets are a nice present, helping us celebrate the holiday together. For seniors, a basket with half a dozen chocolate bunnies, ranging from 100 to 400 calories a pop, might not be the best option. That said, one chocolate bunny is perfectly fine.
This year, get creative with your adult Easter baskets. Firstly, make your chocolate bunny be the center piece, while prioritizing natural sugar options like honeycomb, fruits, or nuts. Alternatively, we can avoid food rewards all together by offering other types of gifts. Gift cards, or accessories, like blankets, clothes, candles, or any other small fun item, are nice treats that celebrate the holiday.
As always, remember that moderation is key to a healthy retirement. Indulging in a chocolate bunny is fun and won't kill us if we are prioritizing our long-term health. Sugar and the holidays go together, but with minor changes we can still enjoy the sweet side of life.
The Council for Retirement Security works to help seniors protect their benefits. That way, they can enjoy every holiday in retirement for years to come.